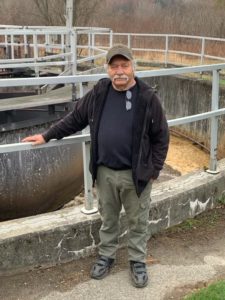 Marcel at the North Troy WWTF.
Marcel Mayhew, chief operator for the Village of North Troy Water and Wastewater, is the winner of the 2021
Tony Torchia Award
for outstanding service to the water and wastewater industry in Vermont. Congratulations, Marcel!
Tell us about your career.
I started working in 1988 with just the sewer department. In the early 90s I started doing the water system also. During that time I was working alone, and I was also working on streets. I've been at North Troy the whole time, it's my second home. I live in Jay, just 5 minutes from the plant, so it's very convenient for me.
What are your favorite and least favorite parts of the job?
My favorite is meeting people here in the Village. I like getting to know the people. And I like the variety of stuff I get to do. There's something different all the time.
My least favorite is leaks. It's always the worst! Sometimes it's the middle of the night, sometimes it's well below zero. Regardless, you have to get up and go to work.
What's your proudest moment of your career?
It just happened—getting this award. It's what I do for a living, and getting rewarded like this is beyond what I could imagine. Everything I've done in my career, this made it all worthwhile.
How has the water industry change over the years?
There's stricter regulations. Everything else is pretty much the same, just that we have to do it differently.
How has the pandemic impacted your work?
Just being more careful about everything. We're always putting the customers first. Wearing masks, having PPE equipment.
This is what I do for a living, and getting this award is beyond what I could imagine.
This can be a hard job that gets little thanks. What motivates you? 
The challenges! Sometimes things go so good that you get bored. Then everything falls apart and you don't have a minute to yourself. It's an ever-changing job and I like that.
Anything else you'd like to share?
Had it not been for VRWA, my job would be a lot harder. The people at VRWA have helped a lot, both water and wastewater.
Congratulations, Marcel, and thank you to all of Vermont's water and wastewater heroes who continue performing essential services to protect the health and environment of our communities!
Do you know a Water Hero who should be featured here? Email info@vtruralwater.org
Interview has been edited.