Vermont Drinking Water Week
About
Some of the most plentiful and cleanest drinking water on the planet can be found here in Vermont. Our health and well-being are supported by safe and reliable drinking water supplies—and the water professionals working at water treatment facilities in nearly every town. Think about what life would be like without safe and reliable water.
Each year, the Vermont Drinking Water Week Committee provides interesting and thought-provoking concepts and activities for your students grades 4-6 during Drinking Water Week, the first full week of May.
Poster Contest
Students in grades 4, 5, and 6 can submit artwork that reflects this year's theme: Water is Essential.
There will be a winner and honorable mention  for each grade level. Winners will receive a prize and their artwork will be printed for distribution. Due to COVID-19, awards will not be presented in person.
Rules
Student's artwork must be created for the sole purpose of this contest and without collaboration with other students. Please include the participating student's name, grade, teacher, school and school's phone number on the back of the poster.
Artwork shall be no larger than 8 ½" x 11". Artwork must be original and can be in any medium including hand-drawn, digitally created, photographs, collage; however, video cannot be accepted. Spelling counts.
Submission
Please mail or deliver all entries to:
Vermont Drinking Water Week Committee
c/o Vermont Bond Bank
20 Winooski Falls Way, Suite 305
Winooski, VT 05404
Or email scanned images to vermontdrinkingwaterweek@gmail.com
All mailed entries must be mailed in time to be received by close-of-business April 20, 2021.
Please be aware that by submitting an entry, participants agree to have their artwork and name used throughout the year in or on non-profit publications, web pages, social media, presentations and special events.
For more information, please contact Ashley Lucht at (802) 861-0074 or vermontdrinkingwaterweek@gmail.com.
2020 Poster Contest
The 2020 theme was "Water Sustains…"
Over 90 students submitted artwork to the contest. The winners received a Vermont State Park annual pass.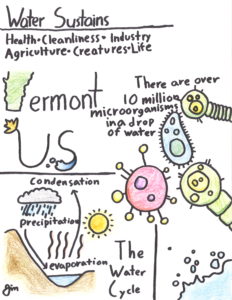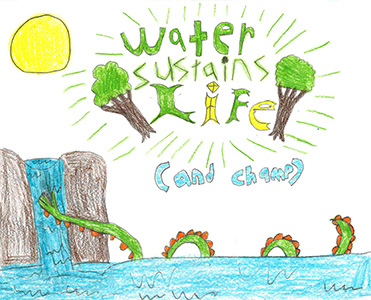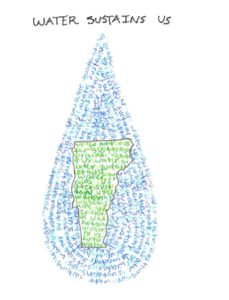 PSA
Since Vermont Drinking Water Week couldn't hold their usual fair in 2020, they put together this fun PSA. Check it out!