Jim Fay is the winner of the 2020 Tony Torchia Award for outstanding service to the water industry. Jim retired last summer after more than 40 years at the Champlain Water District.
Tell us about your career with CWD.
I started in 1977 as a treatment plant operator. That involved water treatment as well as transmission through 70-plus miles of distribution and 19 storage tanks. Over the years I held 8 or 9 different positions. I was promoted to General Manager in 1996. It was a great career, 42 years. Great facility, great board, great employees.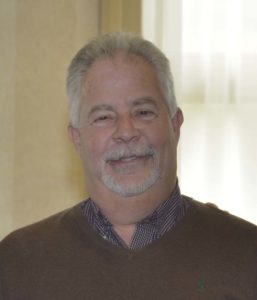 What's your proudest moment of your career?
Probably being first in the nation to receive the Excellence in Water Treatment Award, in 1999. We had optimized water treatment to remove protozoans, specifically cryptosporidium. This was after the outbreak in Milwaukee in the '90s. It was a big concern, and they were having difficulty passing regulations. Our program changed the approach to water treatment, we were optimizing every step of the process. It was a full-staff effort.
Has the water industry changed over the years?
Most definitely. The number of contaminants that are now regulated has increased. We went from a couple dozen when I started to now a couple hundred that we monitor for. There's also, especially in Vermont, difficulty recruiting new employees. It's a big problem.
Do you have any advice for young water operators?
It is a field that is definitely required—everyone needs safe drinking water and fire protection. It makes a great career. You meet the best people. They're very dedicated to protecting public health. It's very rewarding to look back at the progress we made, especially in Lake Champlain.
This can be a hard job that gets little thanks. What kept you motivated?
Really, the people: the employees, the people at other systems, at Vermont Rural Water and Green Mountain [Water Environment Association], New England [Water Works], the agencies—it's a great group of very dedicated people. And at times [the media] would reach out. We were published in the newspaper for various accomplishments.
How are you spending your retirement?
Doing as little as I can! Golf, boating, a little painting.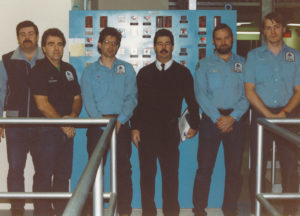 Jim Fay (third from right) with CWD staff, circa 1990.
Photos courtesy of Champlain Water District.

Thank you, Jim, and to all of Vermont's water and wastewater operators who continue performing essential services to protect the health and environment of our communities!
Do you know a Water Hero who should be featured here? Email info@vtruralwater.org
Interview has been edited for length and clarity.