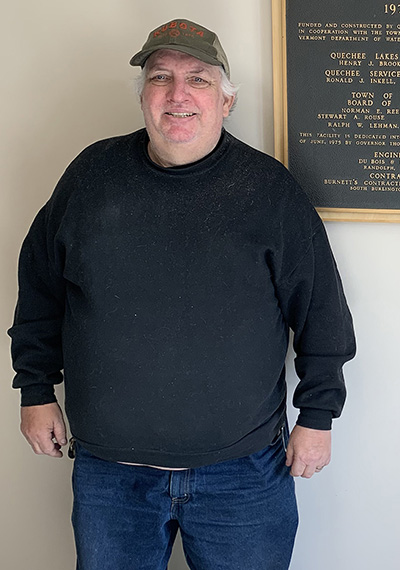 Tom Coates at the Quechee WWTF
Tom Coates is retiring after 35 years at the Quechee Wastewater Treatment Facility. Tom began working as an operator in 1987, and became Assistant Chief Operator in 2012.
Tell us about your utility and its staff.
The Quechee WWTF was initially a lagoon system that was constructed in the early 70s. At that time the facility design flow was .375 mgd. In 2010 a new Sequential Batch Reactor (SBR) treatment plant was put online at a design flow of .475 mgd. There are 12 pump stations and operators also manage 15 septic tank/leachfield systems of various sizes that were installed back in the 70s.
During the early years when the lagoon system was in operation, there were two operators on staff, and with the new SBR there are three operators.
What does your system do well? What do you feel could be improved?
The SBR system does an excellent job of meeting the permit requirements. But, the collection system is in poor condition and could really use replacement of the old AC lines. When it rains, it pours.
What is your favorite part of the job?
I am always learning new things on the job, there is a lot of variety.
What's your proudest moment of your career?
By being recognized by the town for all the years I spent working here. Also getting my grade 3 wastewater operator license.
How has the wastewater field changed since you started?
Technology has come so far: treatment technology, SCADA, monitoring technology, modernization of controls.
This can be a hard job that gets little thanks. What has kept you going?
The people I work with and the pride I take in what we do. Occasionally customers would show their appreciation.
Do you have any advice for young water/wastewater operators?
The younger generation needs to know that there are opportunities in this industry. If you look at the people who are in this profession and how long they have been doing this, it is a testament to how worthy this work is to pursue.
I am always learning new things on the job.
When I started here I was not good at math, chemistry or biology and now look how far I have come.  Most people do not grow up thinking they are going to be a wastewater operator. But, when you end up as an operator, you find you were glad you took that step.
How are you planning to spend your retirement?
Do things on the "honey do" list, and spend time doing things with my wife.
Is there anything else you'd like to share?
I am going to miss the people I have worked with over the years.
Thank you, Tom, and to all of Vermont's water and wastewater heroes who perform essential services to protect the health and environment of our communities!
Do you know a Water Hero who should be featured here? Email info@vtruralwater.org
Interview has been edited.