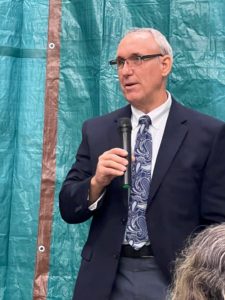 Pete Krolczyk at the EPA award ceremony.
Photo by Bob Fischer
Pete Krolczyk is retiring as Chief Operator of the Waterbury wastewater plant, which is being renamed the 'Peter S. Krolczyk WWTP' in his honor.
Like many of us, Pete got involved in the water industry by accident, starting as a maintenance worker at the Juno Beach, FL wastewater plant in 1980. In 2002 Pete made his way to Vermont and began working at the Waterbury wastewater plant.
Back then, the plant was a simple lagoon system. In 2014 it underwent a significant upgrade to meet stringent phosphorous limits. For this work, the Waterbury WWTP recently received an EPA PISCES Award in recognition of SRF-funded projects with exceptional outcomes.
Pete is proud of the utility and staff he is leaving as he retires.
What's the proudest moment of your career?
Receiving the EPA Pisces Award. Waterbury's facility earned the recognition in 2018 for adopting a new technology, CoMag, that dramatically reduced phosphorus levels in the treated wastewater that is discharged into the Winooski River and ultimately into Lake Champlain. Before CoMag, we were discharging 3,500 pounds of phosphorous per year on average. Now the actual amount discharged is 30 pounds per year. (Their most recently issued permit has a phosphorus limit of 310 lbs/year.) Due to the pandemic the award ceremony was delayed, and was officially presented by EPA's Regional Administrator David Cash on June 3, 2022.
Another proud moment was recently the Edward Farrar Utility District Commissioners announced they are renaming our WWTP as the 'Peter S. Krolczyk WWTP'. They're making up the bronze plaque to mount on the building. This was a quite an unexpected honor.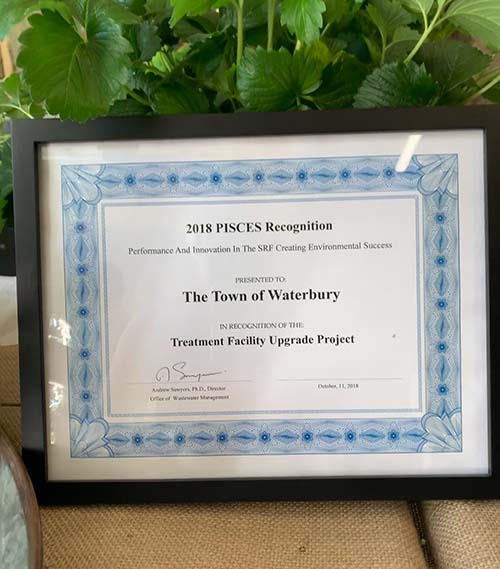 What has been your favorite part of your job?  
Working with a team of incredible professionals and overcoming challenges. We are keepers of the environment and we are making a difference.
I'm also proud to be working for the community. During Tropical Storm Irene in 2011 I was able to rescue a pregnant woman by boat and deliver her to her family. And once I was working to help an elderly resident whose last name was Imhoff, and I came to find out that her grandfather invented the Imhoff cone! (For those who aren't wastewater professionals, an Imhoff cone is a tool used to measure settleable solids.)
This can be a hard job that gets little thanks. What keeps you going?
Taking responsibility and ownership for what you do. I enjoy the benefits of keeping the environment clean by kayaking and swimming in the watershed a lot.
Do you have any advice for other water/wastewater operators in Vermont?
As you encounter challenges always maintain a positive attitude, don't give up, and be a team player.  Take ownership for your job and be respectful.
How are you planning to spend your retirement?
Spending time with my wife and family in Hot Springs, Arkansas, and continuing with the volunteer work. (Pete has created a program on maintaining groundwater and septic systems to share with rural Kingdom Hall facilities around the country.)
I also plan on continuing to be a resource to Matt Jones, who is taking over as chief operator, and a new operator, Tony.
Is there anything else you'd like to share?
Just a real big thank you to Edward Farrar Utility District Commissioners, Vermont Rural Water, and GMWEA.  I love the water/wastewater community in Vermont and around the country.
Thank you, Pete, and to all of Vermont's water and wastewater heroes who perform essential services to protect the health and environment of our communities!
Do you know a Water Hero who should be featured here? Email info@vtruralwater.org
Interview has been edited.