Name: Megan Moir
Job: Division Director, Burlington Water Resources
Tell us about your utility and its staff.
We are a "One Water" organization. Our 45 member team oversees wastewater treatment at 3 plants; drinking water treatment, storage, and distribution; and stormwater management.
Drinking water has been under the City's control since 1867. Wastewater treatment was "born" in the 1950s. Stormwater is the youngest utility, launched in 2009.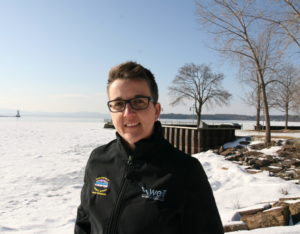 Megan Moir at Lake Champlain, the drinking water source for the City of Burlington, Vermont.
We have three WWTPs (5.3, 1.2, 2.0 MGD design) with the added fun of combined sewer system for the Main Plant. It's our largest plant, with wet weather treatment and direct disinfection capacity up to 88 MGD.
We have one surface water filter plant (3.7 MGD average), two elevated tanks (650K gallons total), one 7 MG reservoir, and about 110 miles of water mains, some of which were laid in the 1800s. 25 percent of the pipes are older than 100 years and 42 percent are older than 75.
What is your favorite part of the job?
First, the fact that I get to "do science" on most days. Second, my Water Resources team members. Third, the meaningful work—we deliver essential, life-giving service 24/7/365. And fourth, unclogging a storm drain and seeing the vortex start, an entire street of stormwater drain away, and having citizens cheer. (I got to do this last week!)
What is your least favorite part of the job?
The emotional toll of criticism from members of the public who only notice us when something goes wrong. Also, the fact that water services are undervalued and as a result, it is extremely hard to steward our infrastructure fully without having to constantly triage based on funding. Lastly, the impact that the job can, at times, have on my family (wife and two kids, ages 6 years and 18 months) during emergencies, budget season, big projects, etc. I can't remember the last time I didn't work on a weekend.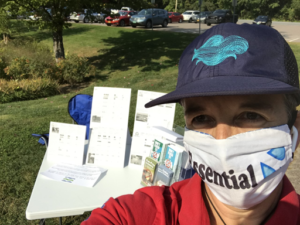 Megan Moir at a new rain garden in summer 2020.
How has the pandemic impacted your system?
We are still maintaining pretty strict protocols. Essential workers (water heroes!) are still onsite. Anyone who can work from home is doing so on most days. I think everyone, myself included, has COVID fatigue. We have done okay using remote work tools like Teams and Zoom, but one of the key things that keeps us going (especially when crazy stuff happens) is interaction with team members and that is missing.
We have a capital backlog since the pandemic hit right as we were headed into construction, so we postponed many projects. We are looking at a pretty busy summer coming up.
Revenue-wise, FY20 ended better than it could have due to the dry summer increasing irrigation usage.  Things are trending slightly better than we predicted for FY21.  We fortunately had some decent cash reserves to buffer impacts, but we will need to rebuild those.
This can be a hard job that gets little thanks. What keeps you going?
On an emotional level, knowing that all our effort is actually worth something, that we may not make things perfect but we sure as hell are making it better.
Personally, I do Crossfit because crazy workouts and lifting heavy things make me really tired inside which means I don't have energy to get stressed out. During budget season, ample amounts of seltzer, bourbon or red wine (in moderation), and some sugar. I have been known to have a glass of wine with Lucky Charms cereal as a snack while crunching numbers after hours at home. (I always check the numbers the next day!)
Do you have any advice for other water/ wastewater operators in Vermont?

Advocate, advocate, advocate. Don't build your work plan or capital plan based on whatever rate increase you are given. Lay out your plan based on what the system needs to function well (not just get by).  It is your job as the professional to say what is necessary and tell the story of why. Talk about the risk of failure and more importantly, what the consequence of failure is. If your administration or citizens won't give you the funding necessary to do the work, then ultimately that is a risk that they are taking on. If you don't tell them, then that risk is solely on you.
Advocate.
Be curious.
Ask questions.
Speak up.
Be curious. Ask questions. There are so many experienced operators out there with so much knowledge. They aren't always "active" teachers—that is, they won't always offer their experience and knowledge unprompted—but if you ask the right question sometimes you find that key that unlocks a whole treasure trove of information.
Remember that the most dangerous phrase is, "We've always done it this way." Speak up if something isn't safe, doesn't make sense, isn't efficient, etc.!!!
Thank you, Megan, and to all of Vermont's water and wastewater heroes who continue performing essential services to protect the health and environment of our communities!
Do you know a Water Hero who should be featured here? Email info@vtruralwater.org
Interview has been edited.