In honor of National Apprenticeship Week 2021, we're featuring Max Tier, soon-to-be graduate of our Apprenticeship Program.
Max started as a registered apprentice at the Springfield Wastewater Treatment Facility in December 2019. After two years, he will be the first apprentice to complete the program.
His apprenticeship included 4,000 hours of on-the-job training and 288 hours of educational instruction.
"It was not easy considering my apprenticeship ran congruent with the pandemic," Max said, but "we all worked together and in the end it was a success."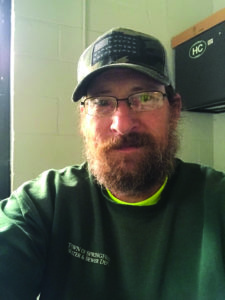 Rich Ladrew oversaw Max's on-the-job training as his mentor, along with other coworkers at the Springfield WWTF.
For the education hours, Max attended the Basic Wastewater Course, OSHA safety trainings, and many other classes offered by Vermont Rural Water and GMWEA. Because nearly all of his apprenticeship occurred during the pandemic, most of these classes were on Zoom.
Max has taken and passed the Level 1 Domestic Wastewater Treatment Exam. He is currently studying for the Level 3 Wastewater Treatment Exam.
Upon his completion of the program, the Vermont Department of Labor will award Max a journey worker certificate as a Wastewater Systems Operation Specialist.
Vermont Rural Water's Apprenticeship Program has developed and grown since it launched in 2019. There are now 10 registered apprentices training in water treatment, wastewater treatment, and water distribution. We anticipate 10 additional apprentices starting in 2022. We also offer a more flexible, unregistered apprenticeship option for small systems that don't have full-time workers.
"I think it is a wonderful program that has been very useful in my career in wastewater treatment," Max said. "I highly recommend this program to any [systems] that wish to further the education of their employees."
The National Rural Water Association, the Department of Labor, and USDA provide funding and support for apprenticeship programs at state affiliates like Vermont Rural Water to train the next generation of operators.
Water and wastewater systems across the country are struggling with staffing shortages and many operators are approaching retirement. Apprenticeships offer veteran operators an opportunity to mentor new hires and pass on their knowledge.
The water resources field is a profession that needs dedicated, environmentally minded workers who are ready to face the challenges posed by climate change and to continue providing clean water to consumers and protecting water quality of our lakes and streams.
Find out more about apprenticeships at vtruralwater.org/training/apprentices