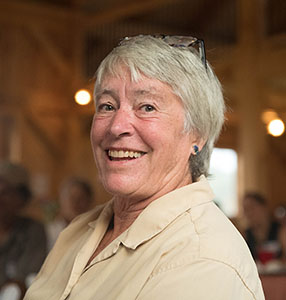 Elizabeth Walker at her retirement party. Photo by  Ashley West Leonard.
Elizabeth Walker retired at the end of September after 45 years of protecting Vermont's environment and making tasty water (as her husband Stan likes to say). Elizabeth was Vermont's first female wastewater operator and first female utility manager. The Green Mountain Water Environment Association presented Elizabeth with the Outstanding Service Award at her retirement. She is the third recipient of this award in the organization's history. GMWEA's Elizabeth Walker Meritorious Service Award is named in her honor and has been given annually since 1997.
Tell us about your career.
Having been a skier all my life, I fell into the wastewater business at Sugarbush Resort. I was working as ski patrol there, and I was the only person small enough to get into the manway of the sand filter at the wastewater plant. Within two years of being an operator I was made utility manager at Sugarbush, overseeing the wastewater plant and Mountain Water Company, which provides drinking water.
Then I moved on to the Vermont Rural Water Association, where I helped water systems around the state, for 10 years. After that I went back to Sugarbush for 3 years. It was under new ownership and I helped get the water and wastewater departments up to capacity and fully staffed.
Then I took the opportunity to take two years off to sail from Vermont to the Caribbean and back with my husband. On our return, we were sailing up the Chesapeake and I got a call from Mark Simon saying, "Have I got a job for you!" I worked for the town of Randolph for three years to oversee the construction of a brand-new sequencing batch reactor (SBR) wastewater system.
After that, I returned to Vermont Rural Water Association to start up a new program funded by the State of Vermont, working with wastewater systems to reduce phosphorus loads and provide training to operators.
If I went back in time to change anything in my career, I wouldn't.
You've done operations, technical assistance, and teaching. What did you like best?
It's been special to mentor and provide operators with the opportunity to move up in the profession. There's a huge reward in that.
I like learning through hands-on work, and I prefer teaching people out in the field. I always wanted to show operators how things are done and why they're done that way. They'll learn so much better if they get to see and do things.
As a manager, I always tried to work with operators in a way that inspires them. I wanted to make them feel they're important and what they do is important. In this field, no one comes around and pats you on the back, so I wanted them to know that I cared.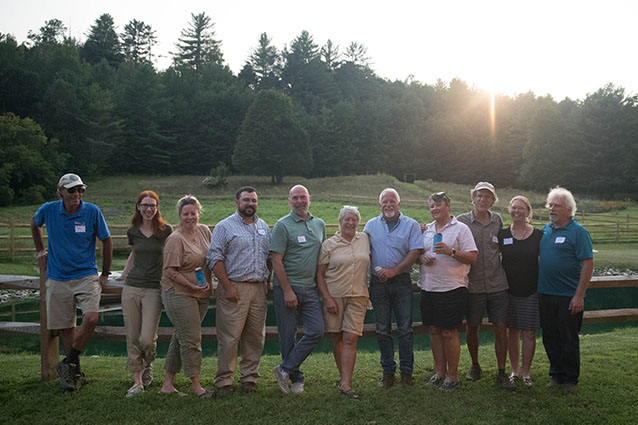 Elizabeth Walker (center) with Vermont Rural Water staff and board members.
Photo by  Ashley West Leonard.

What's your proudest moment of your career?
I don't know that I could single anything out. Overseeing the construction and start-up of the SBR in Randolph was an important project. The day of the ribbon cutting was pretty special. I took a roll of toilet paper and drew a fish on it. Instead of cutting a ribbon, we cut the toilet paper!
Maybe the most touching moment was from the wife of someone I used to mentor.  He had worked at the wastewater facility at Sugarbush, but he didn't end up staying in the industry. He started his own business nearby, and I still see him frequently. One time his wife was there and she told me, "Your name still comes up in conversation at least once a week." I nearly cried hearing that my mentorship had that amount of impact on her husband's life. 
Do you have any advice for young operators?
You know, you just have to work hard, benefit from what you can learn from others, be a team player, and always work to improve yourself by learning new procedures and technologies. Keep up with what's coming.
This can be a hard job that gets little thanks. What kept you motivated?
Have fun! I used to always like to be the first one in and start off the day on a positive note. I'd greet my staff and talk to them. Have fun with what you do, it makes the day go better and the job more enjoyable.
How do you plan to spend your retirement?
First, I'm going sailing—starting this afternoon [September 30]. I'm going to be skiing a lot this winter. Stan and I are going to be working on our property to make it better habitat for birds and bees, and a corridor for wildlife to move through.
Thank you, Elizabeth, and to all of Vermont's water and wastewater heroes who perform essential services to protect the health and environment of our communities!
Do you know a Water Hero who should be featured here? Email info@vtruralwater.org
Interview has been edited for clarity.