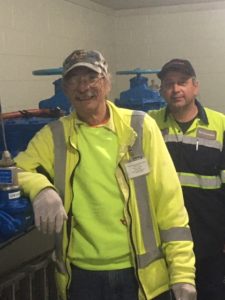 Buddy Ball (left) and Rick Mullen
Name
: Buddy Ball
Job: Water Operations Specialist at Lunenburg Fire District 1 and Superintendent of Operations at Lunenburg Fire District 2
Tell us about your water systems.
I operate two systems in the Northeast Kingdom. LFD1 is located in Lunenburg and has 93 water connections. LFD2 is in Gilman and has 115 connections. I also oversee the operations of the Gilman WWTF. I've became involved with LFD1 since 1992, and became the operator in 2006. I became the operator for LFD2 in 2014. I'm currently working with an operator-in-training for both systems, Rick Mullen.
How did you prepare for the COVID-19 pandemic?
Things changed so fast, we were caught with our pants down! I did my best to keep the board informed. Eventually, the WWTF in Gilman was closed to all non-operations personnel. Rick and I did a formal review and writing of safety procedures, and established new protocols. I'm lucky to have Rick.
What is different about your day-to-day work right now?
We're working remotely when possible. We can do operations reporting like monthly reports from home rather than at the facilities. Daily readings and rounds are proceeding as normal. Non-emergency work has been suspended to minimize risk.  When work is required in the field, or when more than one person is needed for a task, we take proper safety procedures, such as social distancing, disinfecting surfaces, wearing appropriate face coverings. Safety precautions have also been taken to minimize contact when transporting samples. In the community, I've seen that most people are following proper safety procedures.
Have you had any challenges in recent weeks?
Getting supplies has been a challenge. We tried to order safety supplies like masks and gloves but had difficulty getting them. Also, keeping non-essential personnel out of the facilities.
This can be a hard job that gets little thanks-especially now. What keeps you going?
Concern for the community. I grew up in the community and have lived here about 45 years.
Do you have any advice for other water/wastewater utilities in Vermont?
Keep yourself and others safe!
Thank you, Buddy, and to all of Vermont's water and wastewater operators who continue performing essential services to protect the health and environment of our communities!
Do you know a Water Hero who should be featured here? Email info@vtruralwater.org
Interview has been edited for length and clarity.