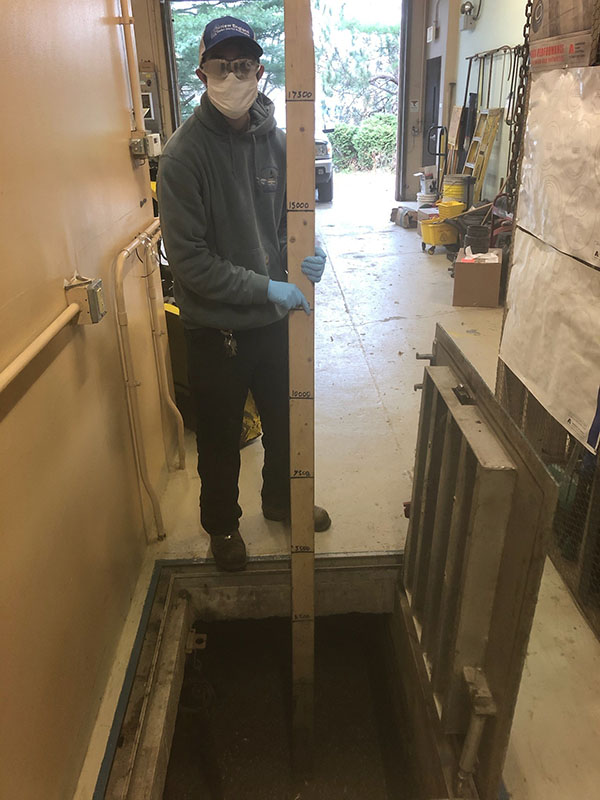 Brad Snow is a registered apprentice in drinking water and wastewater treatment for the town of Richmond, VT. In honor of National Apprenticeship Week, we asked him a few questions about his experiences as an apprentice.
Learn about Vermont Rural Water's Apprenticeship Program at vtruralwater.org/training/apprentices
What is a typical day like for you as a water/wastewater apprentice?
A typical day for me starts at the water system. I turn on the water pump at the water house to ensure we are dosing and we get good numbers out of the taps in town down the distribution line. I fill out our water clipboard and check to see if we need to add chemicals to our drums.
Then I come to the wastewater plant and I take care of the septage receiving unit and take a walk around the plant to make sure nothing is going haywire.
I then will do some cleaning for a while or study until it's time to change over our flow chart and do wastewater/water testing.
After testing we will then know whether or not our chemical feed pumps at the water house need to be adjusted, and we will do so accordingly. Then we double check our numbers to make sure we are at an adequate level as many times as needed. For the rest of the day I will just make sure nothing is going wrong at the plant and if something is wrong we hop right on it and fix it up. I will also clean and study some more.
What drew you to working in drinking water/wastewater?
[Richmond's] previous superintendent Kendall Chamberlin got me into this field. He got me started when I was young because he knew it would be a good career choice for me and he gave me a good opportunity here. I started in high school and have come and gone but over time earned a few licenses and realize this is actually for me. I was lucky to know Kendall at a young age; he was a great mentor and role model to me.
What is your favorite part of the job?
My favorite part of the job has got to be wastewater testing. I really like getting all the information down and seeing what's going on in our system. You can tell a lot from testing. I also very much enjoy looking at the microbiology through the microscope in our aeration tank. You don't realize how alive these things are until you see them up close like that.
What is your least favorite part of the job?
I think it's obvious what we as wastewater operators hate the most about our jobs, and it's getting covered in fecal matter. It doesn't happen every day, but when it does, it really puts a damper on things.
What is something that you wish other people knew about drinking water/wastewater?
What I wish that people knew about water is that as an operator, it can be a very stressful job. You need to always maintain water flow and make sure chemicals are added at state and federal standards. This is a big responsibility and if things go wrong, you are a bad guy, and when things are fine and dandy, no one thinks that it's the water operators who are making this happen for you, you don't even think about it at all, it's just an expected thing.
As for the wastewater side of things, I wish people could just learn what can and cannot be flushed down your toilet. When things other than waste and toilet paper go down that drain, it makes life for a wastewater operator terrible. It can ruin equipment depending on what it is, and ruin our days, but I guess that's all part of the job.
Regardless of what people do or don't know about our jobs, I'm still happy to be a water/and wastewater operator, protecting public health, and the environment.

Thank you, Brad, and to all of Vermont's water and wastewater heroes who perform essential services to protect the health and environment of our communities!
Do you know a Water Hero who should be featured here? Email info@vtruralwater.org
Interview has been edited for clarity.