by Aaron Perez
This article was published in the fall 2023 issue of our newsletter.
It was a dark and stormy night just before Christmas. Ray Counter, the water superintendent of Brandon Fire District #1, was called out at 1:30 am on December 23 by a no power alarm at the district's 1.4 million gallon water storage tank. At that time, the backup battery power at the tank was adequate to maintain its minimal needs, mostly to run the supervisory control and data accusation (SCADA) system. Before going back home, Ray checked the three wells to ensure that they still had power and weren't damaged by the storm.
Later, at 3:30 am, Ray received a no power alarm at all three wells. He got back out of bed and headed out. Upon arrival at wells 2 and 3, which are the main operating wells, he confirmed that the power was out. He tried to call the electric company using the phone number on their website, but only got a recording that they were not able to answer phones due to high call volume. 
Ray Counter (left) and Aaron Perez inspect a generator at Brandon Fire District #1.
At that time the storage tanks had sufficient water available to maintain system pressure and provide fire flow. Regardless, with no estimate of when the power would be restored, Ray stayed to monitor the situation.
At 10:30 am, Ray decided to start the generator at well 2. It started fine and was running well until two hours later, when Ray received yet another power fail alarm. Upon investigation, he found an issue with the pump motor control, which made this well inoperable.
Ray's perseverance would not be hindered; he went to well 3 and started its generator. This generator started, ran for an hour and half, and then failed as well! At this point Ray called the generator service company and, despite the fact that they were extremely busy dealing with the numerus power outages across the state, a technician who was in the area was able to promptly respond.
The technician found an issue with an oil pressure sensor. They didn't have a replacement part, but since the well 2 generator was not being used, they took that sensor, which was luckily the same make and model. The generator at well 3 was repaired and running, water was being produced, and the storage tank level was recovering.
Ray had been at work dealing with this situation for fourteen and a half hours at this point and went home for some much-needed rest. He did not get it! As all dedicated operators know, it is impossible to truly rest with a situation like this at the back of your mind. So he went in every couple of hours to make sure that everything was still running correctly.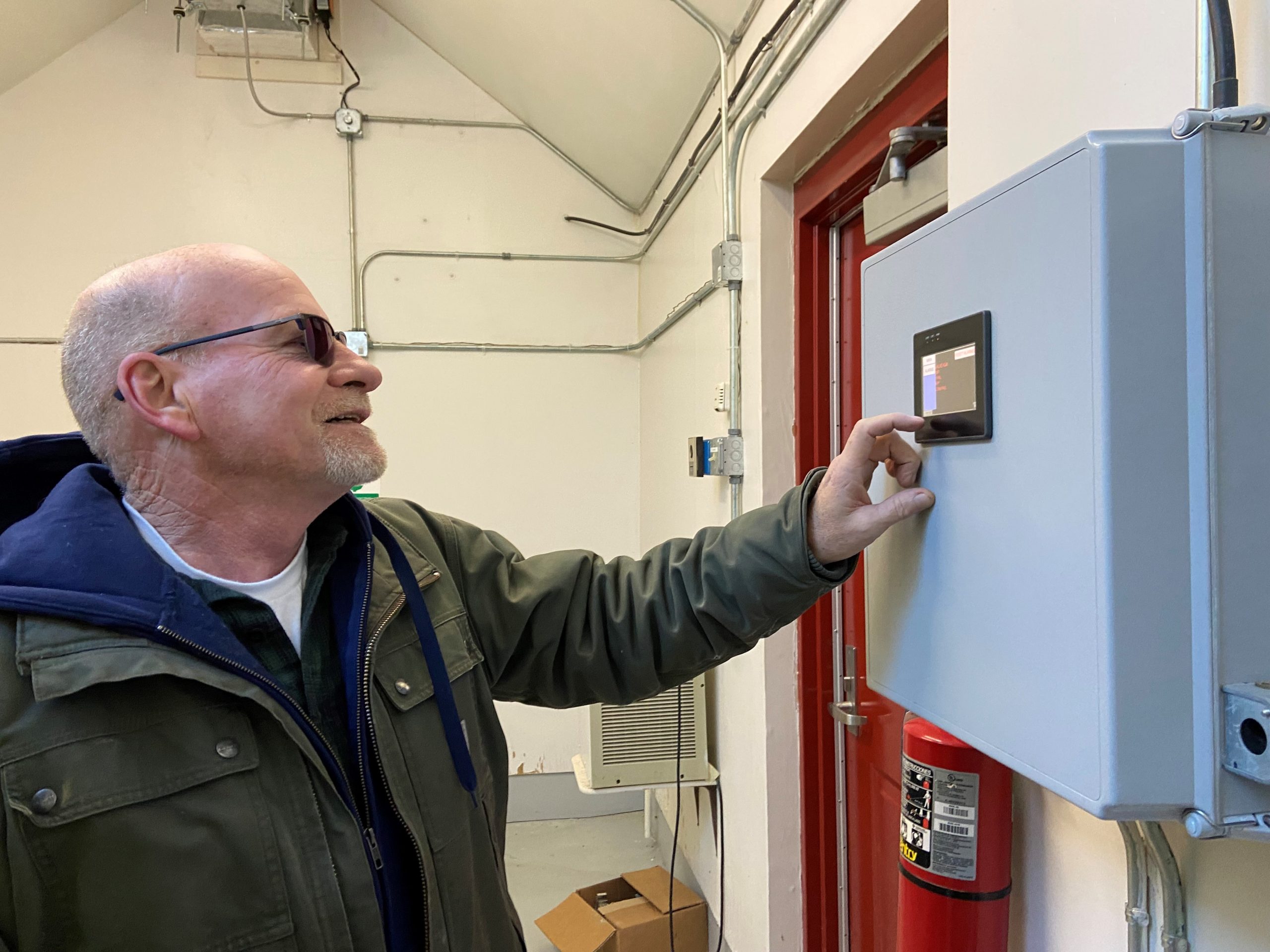 Ray Counter checks a control panel.
Sometime between 11:00 pm on December 23rd and 4:00 am on the 24th, the generator for well 3 failed again. Another storm had moved in, bringing snow and freezing temperatures. Back into the cold and dark Ray went. He arrived at the well house only to find that the lock for the gate had frozen shut, so he had to get bolt cutters from the shop. After finally gaining entrance, he tried in vain to start the generator.
At this point he returned to the office to consult Brandon Fire District's emergency response plan. Ray tried to call the electric company again and received the same recording. At 5:15 am, Ray called Vermont Emergency Management to ask about the restoration of power and request a backup generator. He was told that they would make some inquires and get back to him. Ray notified the fire department chief of the situation and the potential for a water shortage.
At 9:30 am, Dana Nagy, the Drinking Water Community Operations Section Supervisor, who had been contacted by Vermont Emergency Management, called Ray for an update on the situation. Dana said that he would also contact the power company to try to get an estimate of when electricity would be restored.
After speaking with Dana, Ray returned to well 3 to again try to start the generator. This time it started on the second attempt. The day had warmed up a little, which may have contributed to the generator's successful start. Ray's heart rate and blood pressure returned to somewhat back to normal at this point.
An hour later, Ray finally received information from the electric company. There was significant damage to the power line feeding the two main production wells. They estimated that power would be restored that evening, Christmas Eve.
Ray continuously monitored the generator at well 3 to make sure it kept running. It did until power to the wells was restored at 6:00 pm. Ray ran the well in manual because the electricity at the tank was still down so the SCADA system wasn't working. He had to monitor the pressure at the valve vault building with a flashlight to ascertain tank level.
At 7:30 pm Ray had just returned home when he received a follow-up call from Vermont Emergency Management. He was able to inform them that power had been restored but the well was running in manual operations.
At 9:00 pm, power was restored to the storage tank. Ray was able to switch the pumps from manual to auto and the fire district returned to normal operation. At 3:30 am, Christmas morning, the storage tanks refilled to their proper operating levels and Ray could finally rest.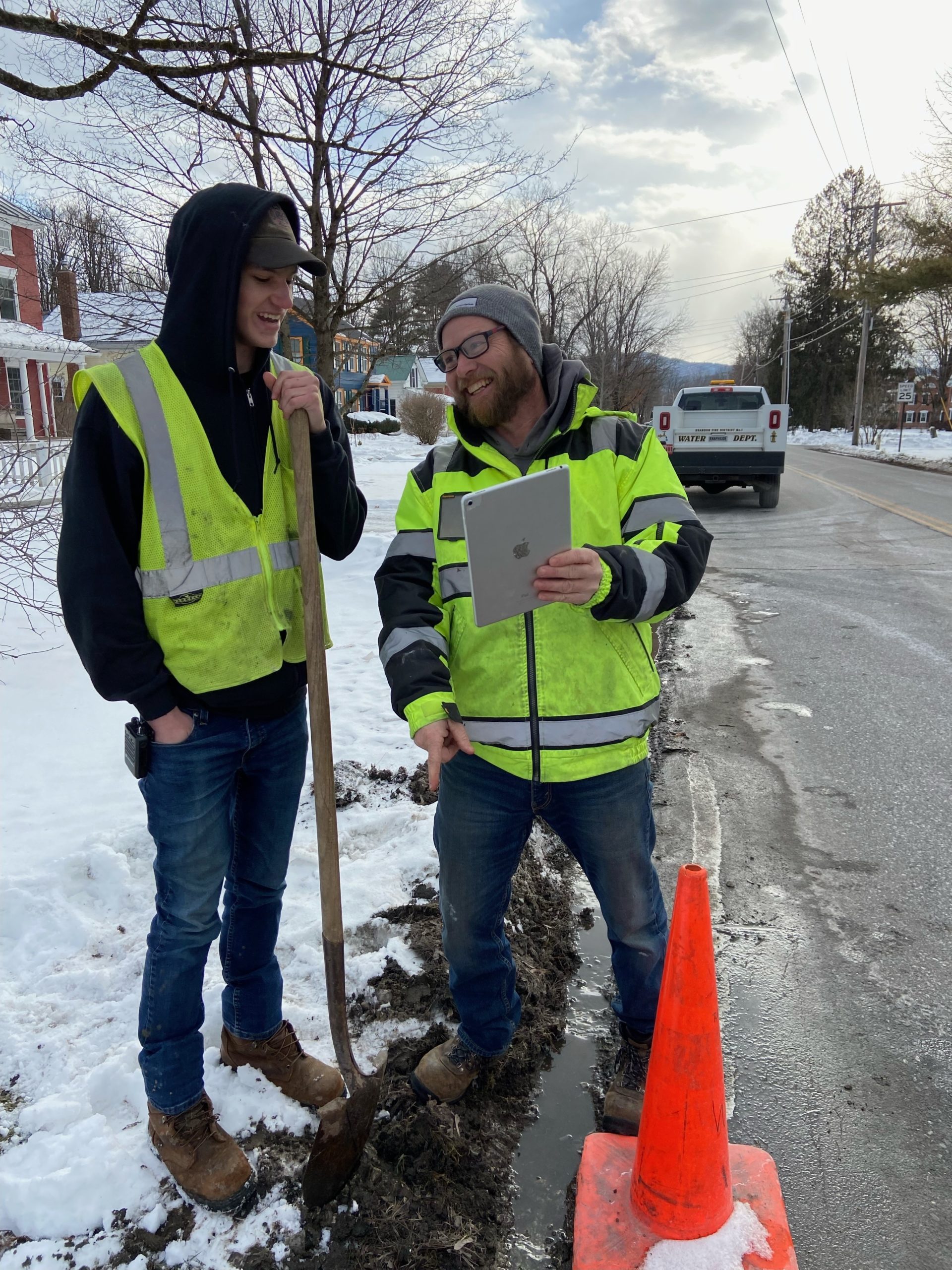 Aaron Perez (right) and operator Bradley Danforth prepare for a January cold snap by identifying vulnerable areas in Brandon Fire District's distribution system.
Lessons Learned
Following this this event, Brandon Fire District did an after action assessment and came up with these conclusions:
Communications
Vermont Emergency Management should have been notified at the start of the event. The Vermont Water and Wastewater Response Network (VT WARN) could also have been contacted to request a back-up generator or spare parts.
Generators
Investigate the possibility of purchasing a portable generator that could serve as back-up power to the tank and any of the wells. A generator or other back-up power source is needed at storage tanks to ensure the automatic operations of the SCADA system. If SCADA systems are connected to a back-up power source, you will receive an alert if an issue arises.
Spare parts for generators should also be included in a water or wastewater system's inventory. Generator companies may no longer have all necessary spare parts in stock due to supply chain issues. Ask your generator company what parts are most likely to wear out and purchase extras of these.
Establish a relationship with a generator rental company prior to an emergency. Talk with a sales representative in your area and inform them of the critical services your system provides. Include this person's contact information in your Emergency Response Plan.
Electric provider
Water and wastewater departments should establish communications protocols with their electricity provider. Electric companies may have an email list or designated phone number for critical customers like water and wastewater utilities. This way you will have a direct way to get information during a power outage, rather than calling the general customer service line. Periodically review this procedure with the electric company and check that your information is up-to-date.
Emergency Response Plan
After a situation like the power outage at Brandon Fire District or the severe flooding this summer, revise your emergency response plan with information you learned or wish you had during the emergency. This way the plan will serve you better next time.