by Katherine Boyk
This article was published in the fall 2023 issue of our newsletter.
Like many in Vermont, I woke up on Monday, July 10 with a feeling of panic. The night before, it had been pouring rain and we'd had flash flood warnings for hours. Now, before I even changed out of my pajamas, I had heard from two of my coworkers at Vermont Rural Water who couldn't leave their house because their streets were flooded.
By the time I made it to the office—located in Essex Junction, which was spared any major damage—we were starting to hear about water and wastewater systems that were in distress. Towns east of the Green Mountains were seeing major flooding. The crew at the Ludlow wastewater treatment facility had to be evacuated by boat.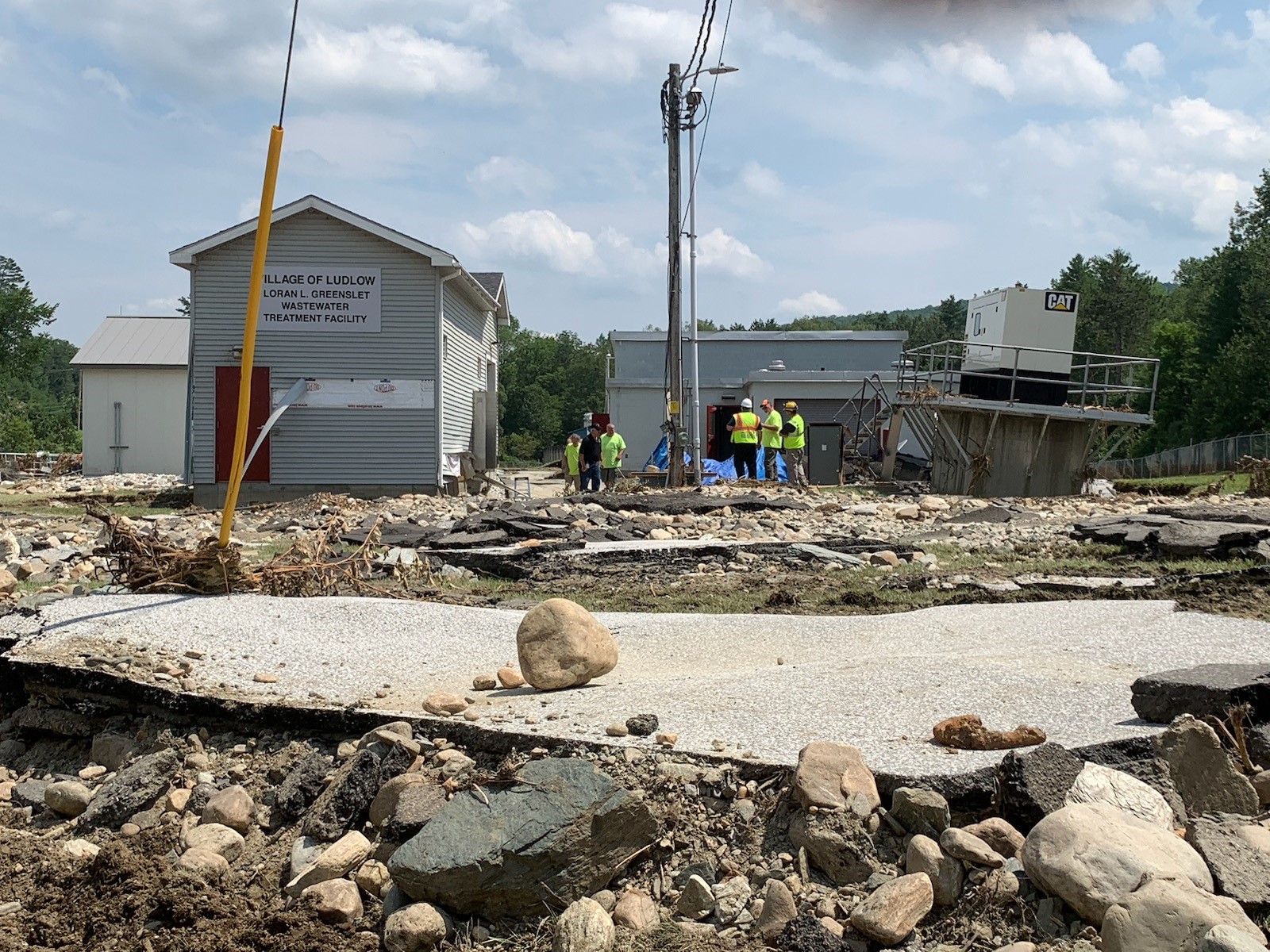 Ludlow's wastewater treatment facility, photographed several days after floodwaters receeded.
My coworkers jumped into emergency response mode. Wastewater specialist Wayne Graham went to check on systems in the northern part of the state and deputy executive director Tim Russo drove to southern Vermont. Elijah Lemieux, our other wastewater specialist whose road was flooded, called systems on the phone. We discussed whether to cancel a Zoom class the next day. I put together an email update with information, resources, and safety reminders. I didn't know it at the time, but this was to be a daily task for me for the next week and a half. Executive director Liz Royer, meanwhile, had been on the phone nonstop with operators, state staff, and reporters. This would become a daily task for her as well—and it still is as I write this four weeks later.
Soon the flooding spread to the western side of the Green Mountains and major rivers like the Winooski and the Lamoille overflowed their banks. By the next morning, we had heard that the wastewater treatment plants in Hardwick and Johnson were underwater. So was the source well for Morrisville's drinking water. A water main in Marshfield was damaged and officials warned that the community may be without drinking water for days. Operators in Waterbury, Montpelier, and Richmond were scrambling to prevent catastrophe as the Winooski River rose.
And it was still raining. We were still under flash flood warnings. There was even a tornado watch at one point. Folks were already comparing this to Tropical Storm Irene, which hit Vermont in 2011 but was still fresh in everyone's mind. Some were saying this was worse than Irene, as the damage was more widespread and the rain just kept coming.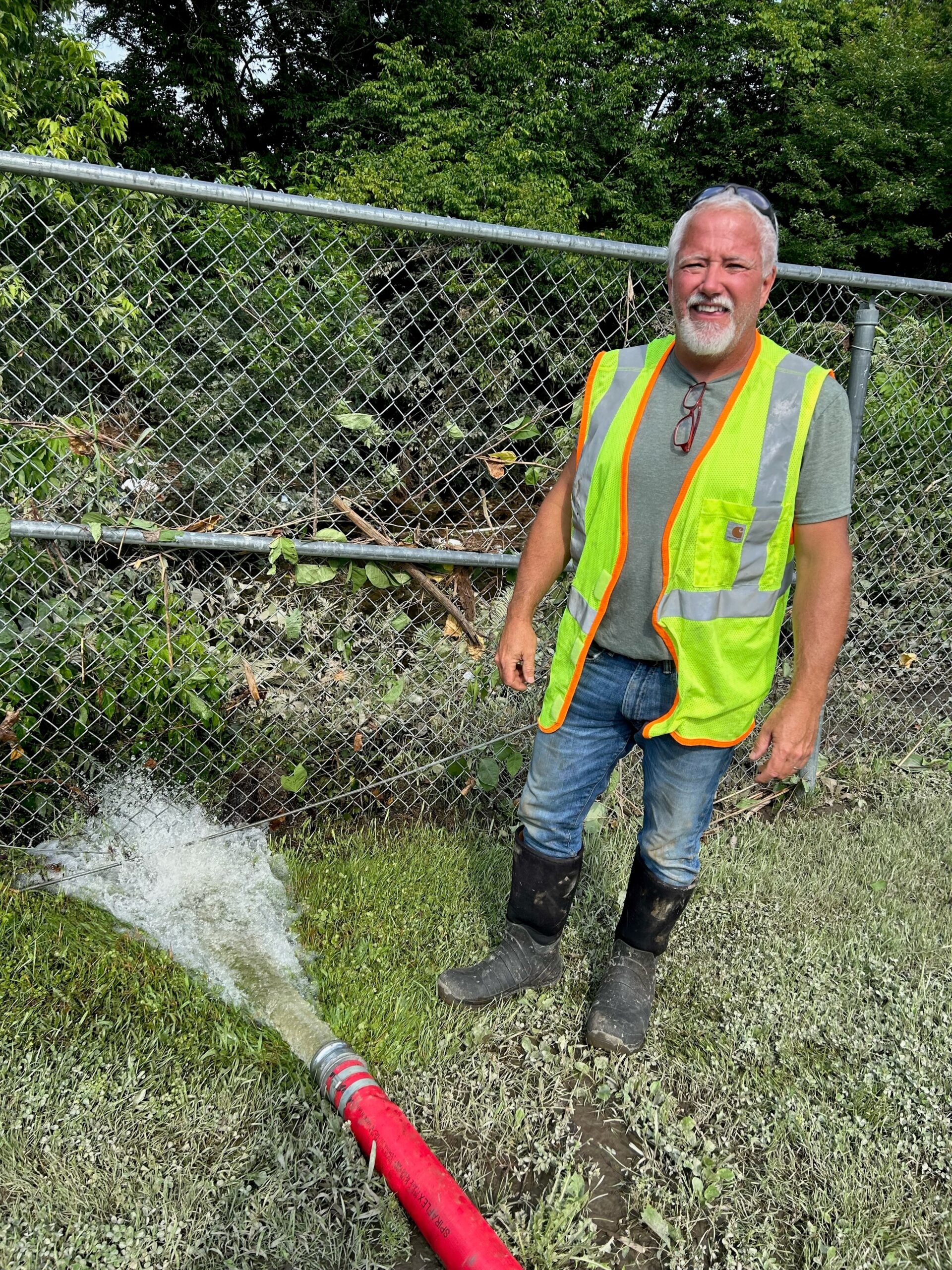 Wayne Graham at the Johnson wastewater treatment facility.
The Drinking Water and Groundwater Protection Division started issuing Boil Water Notices for water systems impacted by flooding. Nine communities were initially put on Boil Water. By the end of the week, I would count sixteen systems on Boil Water, two on Do Not Drink, and one with no water at all.
My coworkers continued to check in with water and wastewater systems across the state and help out at the ones that were hardest hit. I'm not sure if Wayne, Elijah, and Brad Roy, our Source Water Specialist, were getting any sleep. Elijah had spent so much time at the Ludlow wastewater treatment plant that he was able to start a tour for the assessment team while operator Joe Gaudiana met with the insurance adjustor.
Operators from other systems stepped up as well. Ethan Graham, Wayne's son and an operator at the St. Johnsbury wastewater treatment facility, delivered an emergency response trailer to Hardwick's wastewater plant. He also helped clean and rebuild the chemical feed room, which had been ravaged by the flood.
Tim Dagesse from Barton loaned chemical feed pumps and equipment to Hardwick as well.
Morrisville's chlorine feed pumps were destroyed in the flooding and the water system was on Do Not Drink orders. Charlie Taylor in Lyndonville responded within 15 minutes saying that they had pumps and parts available to loan.
Margaret Dwyer from Winhall-Stratton Fire District #1 loaned a pumper truck to Ludlow. Chris Hughes from Cavendish delivered a trash pump. Springfield loaned a vactor truck, and Springfield staff came multiple times to help with jetting and vac work.
Similarly, an operator from Burlington brought a trailer-mounted pump to Johnson and stayed to help with the cleanup effort.
The Rutland wastewater treatment facility provided activated sludge to help reseed Ludlow's treatment process, as the microorganisms had been diluted by floodwaters. South Burlington did the same for Montpelier.
Liz Royer at the Johnson wastewater treatment facility.
That first week was very busy and very stressful for operators at flood-damaged systems and for us at Vermont Rural Water. I would like to say that things have calmed down a bit, but we still have a long way to go. We are transitioning our focus from immediate response to long-term recovery. We are thinking about not just rebuilding, but building smarter.
At the same time, the rain continues. As I write, Middlebury is now experiencing flooding that has impacted both the drinking water and wastewater systems.
And we are all thinking: climate change. These floods are the effect of climate change, right here in Vermont. Which means that this will keep happening. It means that we need to rebuild smarter. We need to be prepared for the next disaster, because it will happen. Soon