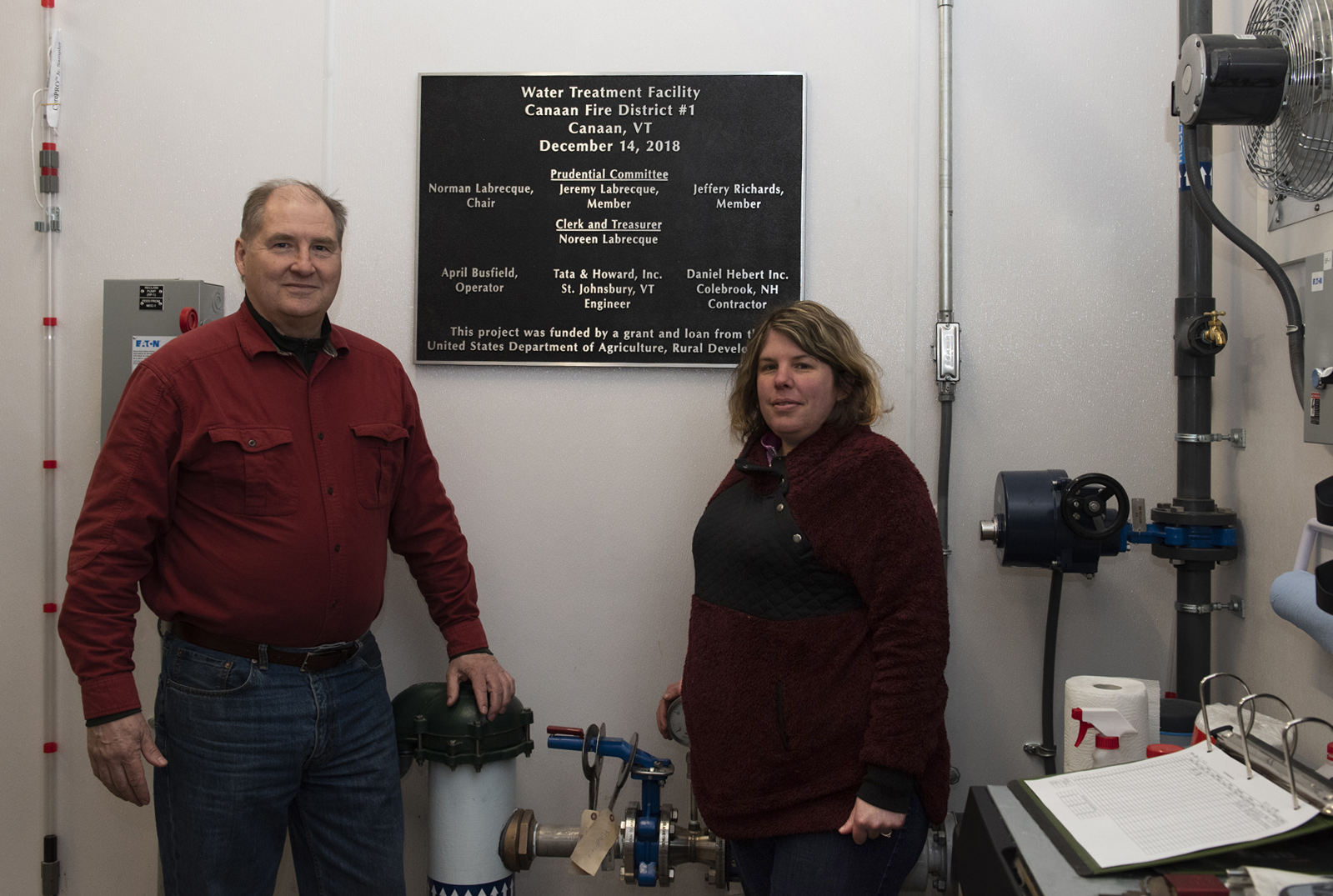 April Busfield (right) and Gary Leach at Canaan Fire District #1
Canaan Fire District #1, which provides drinking water to residents of Canaan, Vt. and Stewartstown, N.H., won the title of best tasting water in Vermont during a statewide competition in 2022. Now it will compete in a national water taste test in Washington, D.C. on February 8.
"It seems surreal," said April Busfield, the chief operator at Canaan Fire District #1. She will be travelling to Washington for the contest and to meet with Vermont's congressional delegation.
The Great American Water Taste Test is held annually by the National Rural Water Association. The top water system from each state competes for the title of Best Water in the USA. The water is judged based on clarity, bouquet, and taste. There has never been a winner from Vermont or New Hampshire.
Canaan Fire District #1 provides water to about 970 people. It is unique in that it serves towns in two different states. Perhaps most unusual, it used to get some of its water from springs located across the border in Canada.
Nowadays, groundwater is pumped from a well in Canaan to a reservoir. From there, it is treated and sent to homes and businesses in Canaan and Stewartstown.
The water system underwent a complete upgrade between 2016 and 2018, implementing a new filtration method and improved distribution. April credits this work in leading to their statewide title last year. "I feel the quality has improved tenfold," she said. "The water is crystal clear."
Canaan Fire District #1 was provided with customized bottles to transport samples of their water
to the Great American Water Taste Test in Washington, D.C
Vermont's Water Tasting Contest was held in May 2022 at Vermont Rural Water's annual conference. Canaan Fire District #1 was named best-tasting groundwater, and the Champlain Water District—which serves more than 80,000 people in Chittenden County—was named best-tasting surface water. The two then faced off for best overall, and Canaan came out on top.
"We are very excited and proud to have a small, rural system such as Canaan Fire District #1 representing our state on the national level," said Liz Royer, executive director of the Vermont Rural Water Association. "April works hard to not just provide safe drinking water, but to provide great tasting water as well!"
All water systems must meet water quality regulations set by the state and federal governments. These include things like testing the water for pathogens and contaminants, protecting the water source from pollution, and employing certified water operators.
"We all do what we need to in order to take whatever mother nature gives us and balance the demands of the state with the demands and desires of the customers to deliver the highest quality of water," said April.
She gives the example of using chlorine as a disinfectant: it needs to be at a high enough level to prevent bacteria growth throughout the distribution pipes, but not so high that people complain of the taste and smell.
It would seem that this balance is even more difficult when there are two towns and two states involved, but April remains positive. "The cooperation between all the boards, commissions, town departments, employees, and states are what makes this work for our small area," she said.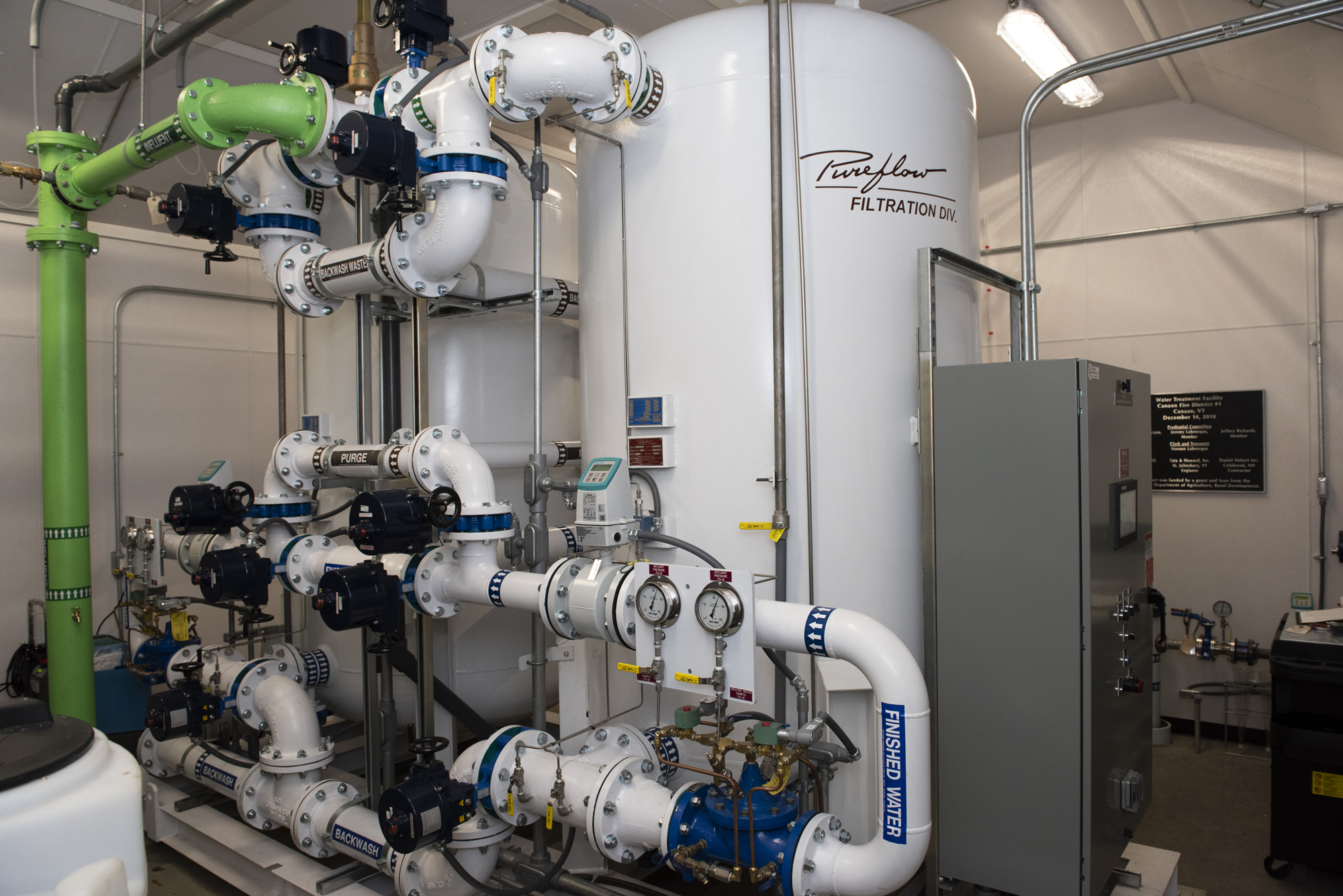 The new water filtration system at Canaan Fire District #1.
The fire district received funding from the United States Department of Agriculture (USDA) to implement the recent upgrade. State and federal funding is critical to helping water systems update their infrastructure, but it can be difficult for small systems like Canaan Fire District #1 to access. Liz and April will be discussing issues like this with Vermont's congressional delegation while they are in Washington.
"Small systems are held to the same standards as larger systems but are sometimes given less resources, especially personnel," said April.
Like many trade fields, the water resource industry is suffering from a worker shortage as many workers retire and few are joining the trade. This especially impacts small water systems, which may only employ one or two certified operators.
To address this, Vermont Rural Water recently started an apprenticeship program to train new workers at drinking water and wastewater treatment facilities. The program has grown to 20 participants in three years, but it is not enough to solve the worker shortage in Vermont.
"I do not think any of us do this because it is always fun," April said of water and wastewater operators. "But we all do this because we care about our towns and their people and we want to deliver good [water]."