Lead is a highly toxic metal—there is no safe level of lead in the body. Children, pregnant people, and sensitive groups are especially at risk. Too much lead in the body can damage the brain, kidneys, and nervous system. Lead is not usually found in the water sources (e.g., wells, springs, surface water) used by Vermont's public drinking water systems. However, lead was historically used in some drinking water infrastructure, including service lines, and premise plumbing. Through corrosion and physical disturbance, lead from these sources can enter drinking water and reach consumers' taps as small particles or dissolved in the water.
The Drinking Water and Groundwater Protection Division (DWGPD) is offering a free program to help small water systems develop their Service Line Inventories (SLI) and Lead Service Line Replacement (LSLR) Plans in accordance with the federal Lead and Copper Rule Revisions (LCRR). Through this program, Community (CWS) and Non-Transient Non-Community (NTNC) water systems serving 1,000 or fewer customers are eligible for free contracted assistance.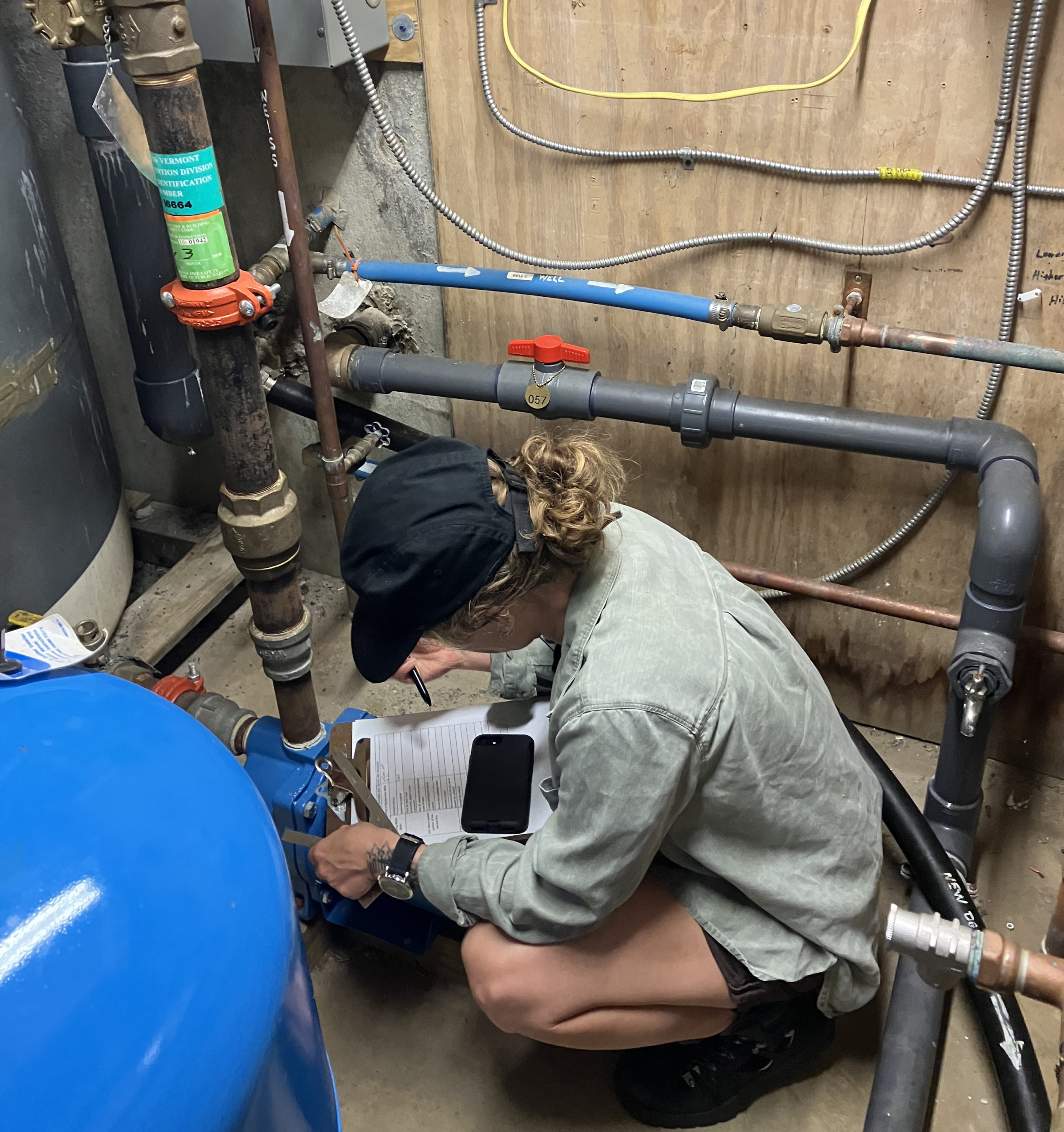 DWGPD staff performing a service line inspection at an NTNC school. Photo provided by DWGPD.
DWGPD will assign contracted consultants to work directly with interested water systems to create SLIs and LSLR plans by the LCRR's due date of October 16, 2024. DWGPD's Sustainable Infrastructure Analysts are managing these contractors and providing technical support for this program.
To enroll in this program, water systems must complete the assistance request form. Once a contractor is assigned to a water system, the contractor will reach out to the water system's primary contact and schedule a kickoff meeting.
The contractor will coordinate with the water system to schedule site visits for visual inspections, research and review records, develop and complete the SLI, and if necessary, create a LSLR plan. Water systems must collaborate with the contractor to make this assistance program successful.
The DWGPD Sustainable Infrastructure Section sent eligible water systems an email in June 2023 containing the contracted assistance request form and FAQs. If your water system has not received this email or has any questions about this program, please contact ANR.SLI@vermont.gov
The purpose of the Service Line Inventory is to document what materials service lines are made of, both water system-owned and customer-owned. If any service lines are made of lead or an unknown material, an Lead Service Line Replacement Plan must be created as well.
Lead was banned in water system components on July 1, 1989. Even water systems built after this ban must submit an inventory verifying that all service lines are non-lead. The LCRR does not waive any CWS or NTNC water system from completing an inventory.
Assistance is also available for water systems that don't qualify for the contracted assistance program. CWSs serving more than 1,000 customers can receive a loan through the Drinking Water State Revolving Fund (DWSRF) to hire a consultant or cover in-house staff time. For NTNC schools, DWGPD staff are developing inventories, and LSLR plans when necessary, at no cost to the school.
Visit the Service Line Inventory page at https://dec.vermont.gov/water for additional information about inventories and available assistance, including a FAQ on contracted assistance.