by Liz Royer
This article was published in the winter 2022–2023 issue of our newsletter.
Water and wastewater systems that are members of VT WARN will soon be able to borrow a trailer filled with equipment during an emergency.
Vermont Rural Water was able to purchase two 12-foot trailers and a number of pieces of new equipment with a grant from the Centers for Disease Control and Prevention (CDC) through the Vermont Department of Health. The goal is for water and wastewater systems to use the trailers and equipment to more quickly restore services after a natural disaster such as a flood.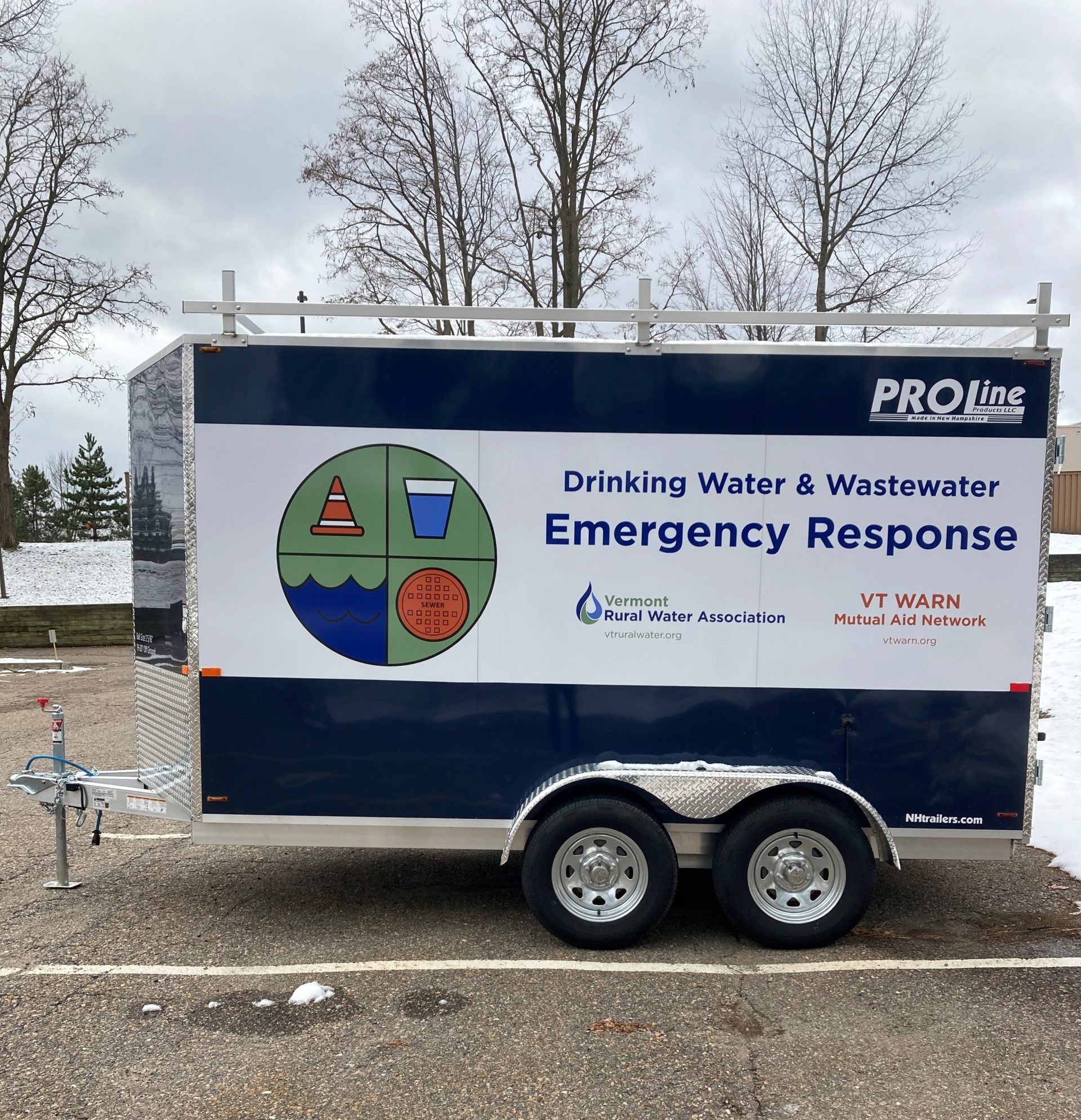 Two trailers and equipment will soon be available for members of VT WARN to borrow for emergency response and preventative maintenance.
The new equipment includes ground penetrating radar units, portable correlators, a valve and hydrant exerciser, and a tilt-and-pan sewer line camera. This equipment will complement tools and supplies already available to systems through VT WARN and Vermont Rural Water such as safety gear, lights, generators, boats, pumps, saws, and portable tanks.
This equipment can also be used to perform preventative maintenance that may reduce the impact of a future flood or other natural disaster.
The trailers and equipment will be available for free to members of the Vermont Water and Wastewater Agency Response Network (VT WARN). VT WARN is a mutual aid network that allows systems to share resources and personnel during emergencies. Participation is free and voluntary.
Over the past two and half years, Vermont Rural Water and the Vermont Department of Environmental Conservation (DEC) have revitalized VT WARN. We encourage all public drinking water and wastewater systems to join our industry's mutual aid network. If you are not a member, you can join online for free at http://vtwarn.org
In July, Vermont Rural Water held two classes that provided a preview of some of the new equipment and taught operators how to use these tools for preventative maintenance or to restore water and sewer services after a natural disaster.
We are excited about this opportunity for VT WARN members to have access to this equipment and the improved emergency response and prevention it will provide. If you are interested in an onsite training for your system and others nearby, please contact us.
Look for a comprehensive inventory of available tools and equipment and information about how to borrow the trailers, coming soon!